OUR MISSION IS TO BAKE THE MOST DELICIOUS BAKED GOODS IN A RESPONSIBLE WAY.
OUR MISSION IS TO BAKE THE MOST DELICIOUS BAKED GOODS IN A RESPONSIBLE WAY.
To do this, we buy the best regional ingredients and focus on fair trade and sustainable business.
Sustainable baking, transport and sale of the best quality bakery products are our priority. In doing so, we pay attention to environmental protection, animal welfare and social standards. The continuous improvement of the sourcing of selected ingredients is very important to us. Through short delivery routes and the use of modern baking processes, we protect the environment and use energy efficiently and sparingly. We are constantly expanding our sustainability concept in the process. So you can be curious about what's to come in the future.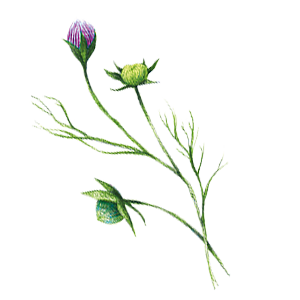 For us, sustainable business means paying attention to sustainability in all areas. This begins with the purchase, not only of ingredients, but also of vehicles, store fittings, etc., and continues in our dealings with employees, the efficient and conscientious use of resources, the protection of the environment and social commitment in the region. A view to consistency is a key criterion in all decisions.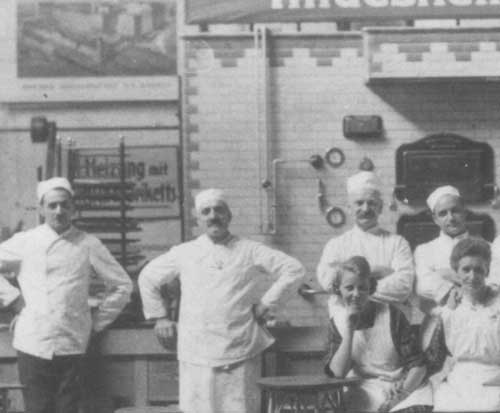 Team
Our employees are very important to us.
Good work deserves fair payment and at Nobis Printen we also offer numerous benefits that make life and work more pleasant. This could be a discounted gym membership, the opportunity to use an e-bike at a low price, or financial support for childcare. We are convinced that only happy and satisfied employees can serve our customers with a honest smile. We are particularly proud of the numerous members of our large team who have accompanied us on this journey for many years and decades.
Regionality
We not only keep our own supply routes short, but also make an effort to do the same with suppliers. For this, the Eifel and our surrounding region are the first choice for purchasing raw materials. This not only has the advantage of low CO2 emissions. In our opinion, there is no substitute for the close exchange with suppliers in the region, regular quality checks and knowing where something comes from. And everyone benefits from the resulting bond – including you as a customer.
ALL GOOD THINGS COME FROM THE OVEN
Our stone ovens give the baked goods the golden brownness and the tasty crust.
In the oven the craftsmanship of the bakers is topped. Our natural ingredients, the talent of our bakers and a long resting of the dough are the secret for the aromatic taste and freshness. The craft develops character. All doughs at Nobis have their own peculiarities; they are real characters that need to be treated with a lot of experience and care. That is why we rely on skilled workers in the bakery and confectionery. Machines are only used where work cannot be done better by hand. We bake just before our specialty stores open, so you can enjoy the greatest possible freshness. Our rolls and "Feierabend-Knüller" are baked on an ongoing basis and according to demand directly in our stores. So you can be sure that you will get fresh rolls, even in the evening.
SPECIES PROTECTION IN THE REGION
If not now, when?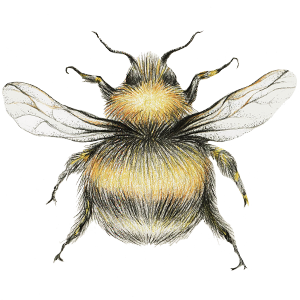 The topic of species conservation is very important to us. For this reason, we planted one square meter of flowering meadow in the Seffent district on fields owned by Groten, a farmer in Aachen, for every loaf of flowering bread sold. In total, we have planted 20,000 square meters of flower meadow with the proceeds from the campaign, thus creating a new home and valuable habitat for countless native insects.
ENGAGEMENT WITH HEART
If the motivation is right, the result is right too!
Good planning is the key. The team at your Nobis bakery tries to offer you a wide and optimal selection of fresh and high-quality baked goods every day. When planning, we take many factors into consideration, such as weather conditions, days of the week, seasons and of course, customer requests. With our many years of experience, we manage to provide you with a rich assortment of fresh baked goods all day long. However, we ask for your understanding if not all baked goods are in stock in the evening, because we see it as our social task to avoid excessive returns. We deliver our unsold baked goods daily to numerous welfare organizations in Aachen. In addition, baked goods that are no longer for sale are sent to animal feed recycling.
OUR INGREDIENTS
Everything at its finest.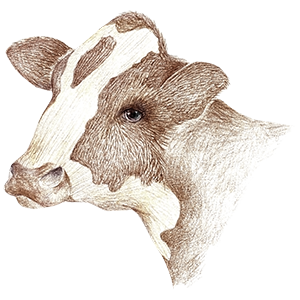 MILK
Milk, curd and cream are an essential ingredient in many of our baked goods. That is why farmers and cows are especially important to us. We get our fresh milk from the farmers' dairy in Monschau, which is also organic certified – so we leave the smallest possible carbon footprint on our planet and guarantee the best and freshest quality every day.
24 km away. Monschau organic farm dairy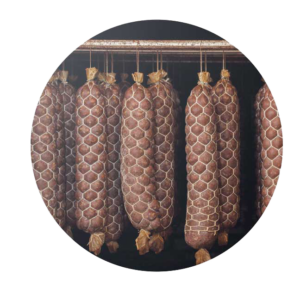 SAUSAGE & CHEESE
We receive our meat and sausage products from the traditional master butcher Winkens from Stolberg. The company processes meat exclusively from North Rhine-Westphalia and the border region in Belgium. We like to top our snacks with these cold cuts – always fresh and delicious. Our cheese is real Dutch Gouda. Quality from the bordering country that you can taste.
5 km away. Traditional butcher shop in Aachen
SUGAR
For our baked goods and Printen, we use selected types of sugar, such as rock candy, farin sugar and sugar syrup, which we obtain directly from the region, the Jülicher Börde. This way we know where the sugar comes from, how it is grown and that the region's agriculture is supported.
22 km away. Regional sugar producer in Jülich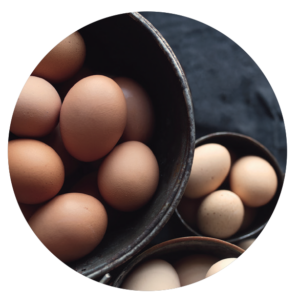 Eggs
Enjoy your scrambled egg sandwich with free-range eggs. This ensures that the hens receive healthy, nutritious food, drink clean water and have adequate space.
68 km away. Fresh organic eggs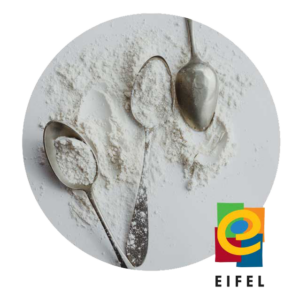 FLOUR
The most important raw material, the EIFEL flour, reaches us on short distances. Our hometown of Aachen and the region are particularly important to us. With every bag of EIFEL flour we support agriculture in the Eifel. From the seed to the store counter, compliance with the criteria is controlled by Agrar-Control GmbH – so you can always be sure to find quality and regionality in all our products.
71 km away. Regional flour from Krefeld
TEA
Every day a little more sustainable.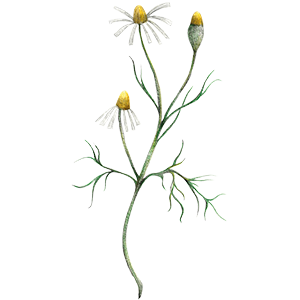 Our entire tea selection from Gschwendner comes from organic cultivation for the benefit of the environment, people and nature. Tea is one of the purest and most natural foods on our planet and after water, it is the most consumed beverage. However, in conventional farming, artificial fertilizers and chemical pesticides contaminate the healthy components of the tea plant. This influences the taste and quality of the tea that eventually ends up in our cup. We use only organic ingredients – and of course also refrain from using genetic engineering,
artificial flavors, and colorants and preservatives.
COFFEE
Small bean, great effect!
Enjoy our aromatic, freshly brewed organic fair trade coffee. In the gentle drum roasting process, the unique aroma is created to offer our customers a special coffee experience. The Nobis exclusive roasting of the private roastery Vollmer coffee guarantees you a socially fair and economically sustainable produced organic coffee in top quality through the organic and Fairtrade certification. These certificates ensure that thousands of
hectares of forest and farmland are managed according to strict sustainability standards and that workers are treated and paid fairly in the process. By buying Fairtrade coffee, you are therefore making a valuable contribution to improving the living and working conditions of coffee farming families in countries of the Global South and helping to promote environmental protection. Coffee farmers are additionally supported in adapting to the changed climatic conditions.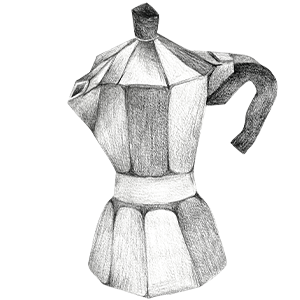 GENUINE CRAFTSMANSHIP FOR BEST QUALITY
The magic is in the details.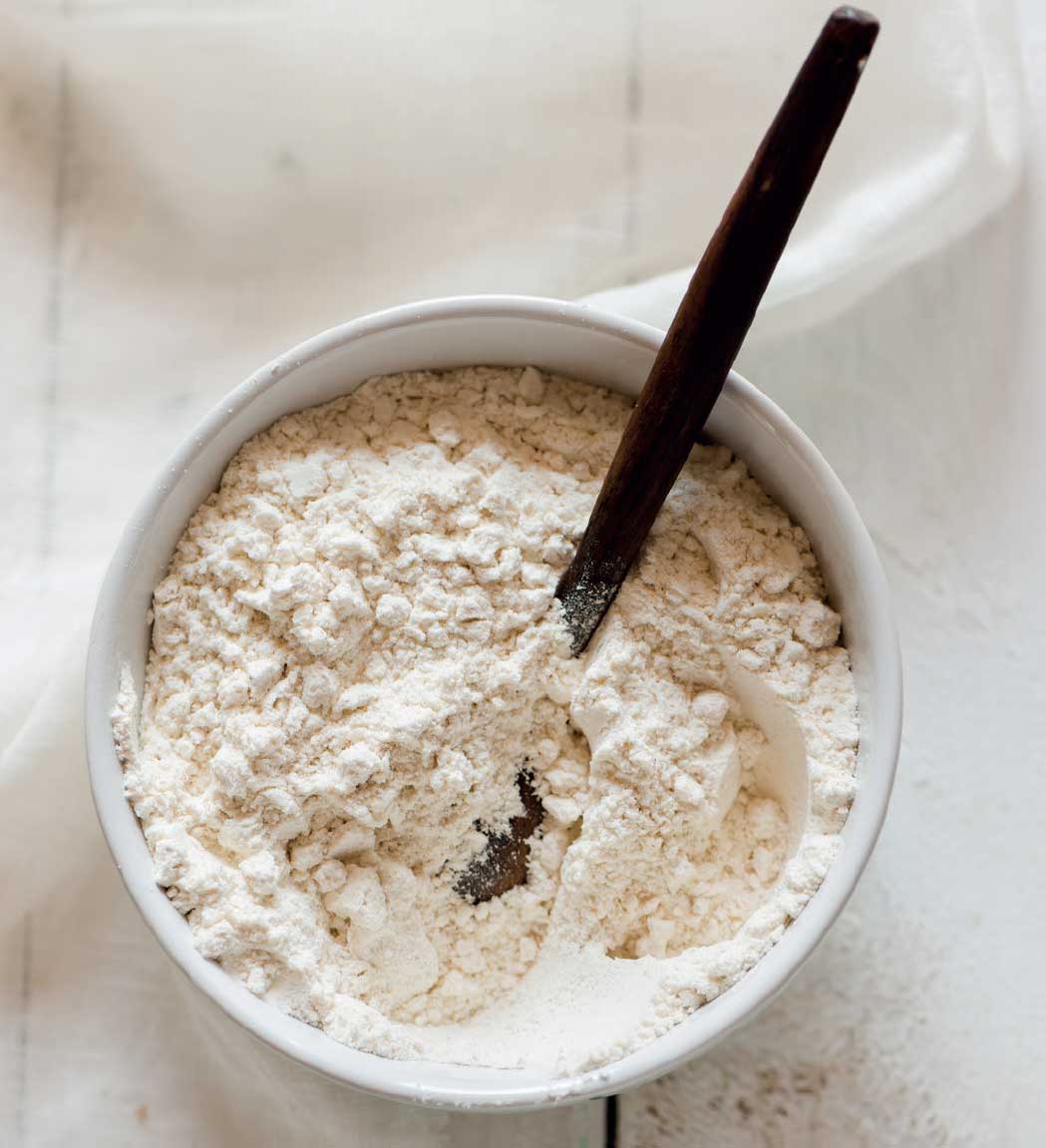 As our customer, you should know: Each loaf of bread from Nobis Printen is a real piece of craftsmanship. EIFEL flour, salt, water, fresh yeast and the skills and experiences of the bakers – that's all it takes to make really good bread. Baked according to old Nobis recipes and fresh daily, our baked goods taste great morning, noon and night. What sounds so simple, requires in practice a lot of skill, time and attention to detail. For instance, we make all of our dough ourselves and set pre-doughs, such as our three-stage natural sourdough, for over 24 hours before baking. We do not use artificial flavors, colors, etc. in all our breads, not just a few selected ones. Our claim is not quantity, but quality. This is where we focus our attention. We bake in a traditional and handcrafted way, offering a wide range of bakery specialties that have always been available only from us.
Our principle: fresh baked goods from the bakery several times a day
CHOCOLATE
Probably the most fair temptation.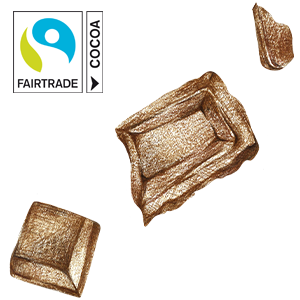 As a traditional Printen bakery in the 5th generation, we care a lot about the excellent quality of our ingredients and also feel responsible for their production. For years we have been processing only certified chocolates and with Fairtrade we have taken the next step towards sustainability and fair trade. Whether with dark, milk or white chocolate, enjoy our Printen and chocolates with a clear conscience.
FAIRTRADE
It starts with you.
The concept of fair trade means that everyone gets a fair piece of the cake and, at its core, has to do with the question of justice and injustice. No one wants to buy something that someone has been treated unfairly in its manufacture. For small cocoa or coffee farmers, industrial trade structures often impose unfair conditions. Their raw materials are bought at extremely low prices, so that most of the profit remains outside the country of origin and the benefit for local producers is very small. To work against this injustice, we only process Fairtrade-certified chocolates. The quality of high value raw materials of our delicious Printen and baked goods is our top priority, for which we are happy to pay a fair price. By the way, our entire coffee assortment also consists of Fairtrade-certified coffees.
ENVIRONMENT
A climate-friendly future is feasible.
Economical use of raw materials.
The economical use of raw materials is a matter of principle for us. Not only from an economic point of view. The use of resources by humans permanently changes our ecosystem and is often associated with significant interventions in the natural and water balance. In addition to the consequences for the environment, the use of resources also has social implications. Today's distribution of raw materials prevents many people from achieving food security. Therefore, Nobis Printen also has a social and ecological interest in the responsible use of raw materials.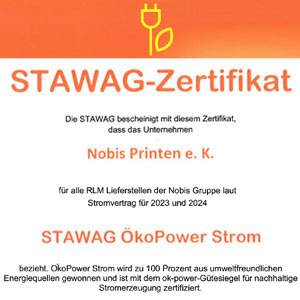 Use of renewable energies
As a modern bakery, we generate 75,000 kWh with a photovoltaic system on the roof of our bakery, saving over 55 tons of CO2 annually. To generate our hot water, we use not only our solar system but also the waste heat from our ovens and refrigeration systems.
The electricity that we also need in production and the bakeries and cannot generate ourselves is exclusively green electricity from Stawag.
Clean thing
For many years we have been operating a washing area on the premises of our bakery where we keep our red delivery vehicles clean. To avoid unnecessary water consumption, we use treated rainwater that accumulates on the roof surfaces for vehicle washing. The lighting of the entire bakery and administration as well as the majority of our specialty stores were converted to energy-saving LED lighting at an early stage.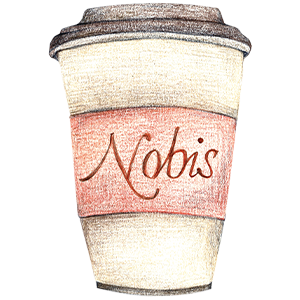 Environmentally conscious packaging and keeping things fresh
For us, acting as environmentally friendly as possible is a permanent task that plays a major role in many details. For example, we offer Fairtrade-certified cotton carrier bags and paper carrier bags, naturally produced in a climate-neutral manner and made of certified paper for the transport of bread and rolls. The bread itself is packed in paper bags, which have a very thin coating and thus keep the bread fresh for a long time. Disposed of in the recycling bin, the recyclable materials are returned to the cycle. The paper of our remaining paper bags is also made from 100% sustainable forestry to maintain the stability and regenerative capacity of the forest, and is produced in Germany. The processing into a bread roll bag and printing with environmentally friendly ink then takes place in our region. We have solved the receipt issue via a QR code system, so that 1,800 km of paper receipts are saved per year.
The requirements for meals and drinks "to go" are particularly high: the packaging must be as clean as possible to fill, easy to transport and simple to open. Freshness and the natural taste of the contents must still be protected. And after consuming, of course, the packaging should cause little waste. There are always new ideas for this. Fortunately, because we have been offering ecological reusable cups for hot beverages since 2016 and reward the use of customers' own cups with a 10-cent discount on the drink. You can imagine how many cups were saved during this period alone with the help of environmentally conscious customers. Since 2023, in addition to the usual coffee to go cups and reusable cups, we also offer you another sustainable alternative in the form of our new biodegradable deposit reusable cups (Made in Germany).
The cup costs you nothing; you only pay a €3 deposit, which you will get back at any Nobis bakery when you return it. A lid is optionally available and costs you once 2,-€.
The environment plays a leading role
We are happy if customers bring their own tote or jute bag. More and more customers are using them several times – which not only makes us happy, but also nature. In addition, our customers can purchase an environmentally friendly and OEKO TEX certified cotton bread backpack from us.