MEISTER.WERK.NRW
MEISTER.WERK.NRW
NOBIS PRINTEN AWARDED AGAIN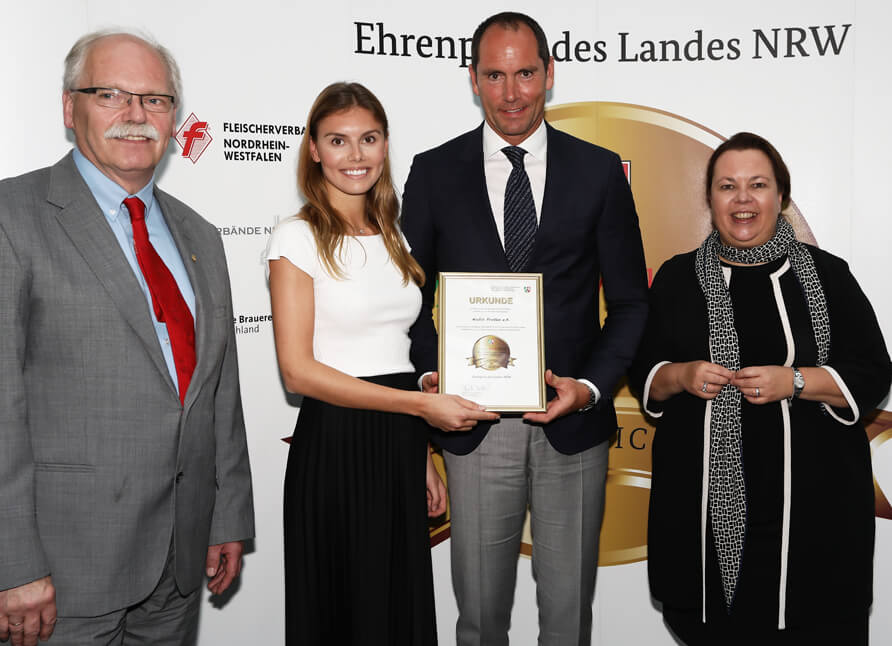 Nobis Printen received an award from the Ministry of Agriculture and Consumer Protection of North Rhine-Westphalia in 2020 and is one of the best bakeries in all of North Rhine-Westphalia.
Particular attention was paid to: Excellent quality, artisanal production using our own recipes, sustainable production, regional ingredients, good working and training conditions and fair pricing.
Meister.Werk.NRW 2020:
Excellent food craft
Minister Heinen-Esser: The food trade creates identity and a home
Agriculture Minister Ursula Heinen-Esser honored companies in the food trade with the award of the state Meister.Werk.NRW in the Maxhaus in Düsseldorf. Member companies of the Association of the Rhenish Bakery Trades were represented among the award winners. The winners from the bakery, butchery, confectionery and brewing trade were honored for their special achievements: "The food trade in North Rhine-Westphalia creates regional products of high quality that convey identity and home. It secures jobs and training positions, promotes cooperation within a region to build stable value chains and is an important local supplier, especially in rural regions, "said Minister Heinen-Esser, praising the industry's commitment.
With the award "Meister.Werk.NRW", the state government has honored outstanding bakeries for products of special quality, craftsmanship, responsible management and regional roots since 2013. In 2017, confectioners were also honored for the first time.
"Consumers are increasingly interested in where the products come from and under what conditions they are manufactured. Especially regionally produced food is becoming more and more important. Artisanal food production means more than just mixing the ingredients. Behind a food there is profound knowledge and a long tradition, "said Agriculture Minister Heinen-Esser.
Meister.Werk.NRW distinguishes the food trade companies for the fact that they produce themselves, maintain old recipes and at the same time are open to new products or manufacturing methods. An example in bakeries is the homemade natural sourdough, which does not use artificial baking agents.