Dear customers,
we have renewed our Nobis card. From now on, you can have the credit and points of the previous Nobis card transferred to the new Nobis card by us in your Nobis bakery and use it immediately for shopping.
We are working intensively on an app matching the Nobis card as a digital loyalty card with extended functions such as registration and credit top-up with PayPal, which we would like to offer you in the next few weeks.
The most important information about your new customer card:
The new Nobis card cannot currently be registered and topped up online and no balance can be checked online. However, you can still load your new Nobis card and request credit at our bakeries. As before, you can find your credit on the receipt.
It is not possible to combine several cards to collect points and use a credit together. However, family members, for example, can save a photo of the "main card" on their cell phone and show it when shopping, or save the card in a loyalty card app, and thus collect points on one card and also use the credit together.
PAYMENT CARD

✓


POINTS CARD

✓


STAMP CARD✓
GIFT CARD

✓
The Nobis card benefits in detail
Payment card
Easily charge money at your Nobis bakery
Conveniently pay for purchases with the Nobis card
Super for all kids: buy snacks without cash
Points card
Collect points or money – with every purchase* per full euro you collect 3 cents
You can exchange the amount for your favorite Nobis treats at any time (no cash back).
Stamp card
Collect and redeem stamps with attractive promotions
Gift card
Looking for a gift for your loved ones? How about a gift card from Nobis then! A small card full of love, tradition and quality.
Simply charge the card with your desired amount and give it as a gift.
Whether for a birthday, as a small thank you or just because: with the Nobis card you always score!
Privacy
The card can be used anonymously – i.e. without personalization.
With the German card provider BBN, the protection of your data according to the DSGVO is guaranteed.
We do not pass on your data to third parties.
We will gladly inform you about individual offers, but only if you wish.
Information
Newspapers, merchandise (e.g. carrier bags, colored eggs, coffee packs), Printen, deposits and offers are excluded from point collection.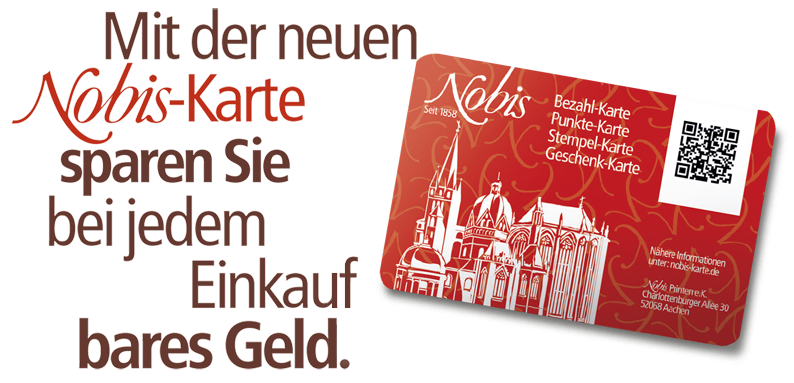 Explanation of the terms on the receipt:
Voucher card/ Gift card

:
This is about credit that has been charged in the stores (currently there is no possibility to charge credit online).
Points credit redeemable

:
Are the points obtained through purchases (0.33€ gives 0.01€ of points credit).
The difference to the old BonVito card is that the points balance is no longer displayed in points but in €.
Points credit next month

:
Has no meaning or function.
This part will disappear from the receipt in the future.
Additional information:
From the old Bonvito card, the loaded credit and points were combined and transferred as a € amount to the new Nobis card (voucher card/ gift card).
This means that the "points balance redeemable" are only points (in €) collected through purchases made with the new card.
Frequently asked questions:
Cancel or give away Nobis card:
How, where, why a Nobis card?
What does the program look like and what does the Card offer me?
Andrea
2020-12-05T20:00:14+01:00
Our Nobis card offers you many advantages. You can use the charged amount to pay for all purchases conveniently, easily and quickly while saving you money. Dont worry about small money anymore! For every spend* Euro we will credit you with 3 points worth 1 cent each.
With your next purchase you can redeem the points and save. Until 12.05.2019 there is a 5% starter discount * on your purchase. You save up to 8%!
Your children will simply pay their snacks with the Nobis card and registered online your credit and points are secured against loss.
With the card, you can take part in attractive promotions all year round – look forward to great benefits.
* excluding newspapers, merchandise, Printen, deposit and offers
Function of the Nobis card?
How long is my Nobis card valid?
Andrea
2020-12-05T20:01:58+01:00
The Nobis card is valid for an indefinite period.
Is the Nobis card rechargeable?
Andrea
2020-12-05T20:02:37+01:00
Yes, you can recharge the Nobis Card at any time with a new deposit, either at your Nobis Bakery or online 
here
.
Is the Nobis Card associated with costs or fees?
Andrea
2020-12-05T20:04:39+01:00
No, the card and all related benefits and advantages are completely free. You only have to charge the card for the first time with a 10 € credit.
My Nobis card does not have enough credit, but can I still pay with it?
Andrea
2020-12-05T20:05:34+01:00
You can pay the difference in cash. After that, you can of course recharge the card.
What happens if I forget my Nobis card when shopping?
Andrea
2020-12-05T20:05:56+01:00
You must have the card with you when shopping. Unfortunately, it is not possible to credit your points after your purchase. There are loyalty card apps in which you can store your Nobis card. If you then show us the card within the phone app, our sales assistants can scan the code from the app, granting you your Nobis Card benefits and crediting points.
Alternatively, you can alternatively show a photo of your Nobis card with well-visible barcode on your phone for such cases. Our sales assistants can then scan the code on the photo.
Where can I find out about my current score?
Andrea
2020-12-05T11:58:00+01:00
Your points are on your receipt, you can ask our friendly sales assistants or view your score online.
Please log in to see your overview here. You will then be able to see all the information concerning your Nobis card.
Can I exchange my Nobis card or withdraw cash?
Andrea
2020-12-05T11:56:53+01:00
The Nobis Card is excluded from exchange and the balance can not be paid in cash.
The credit can be used completely for purchases in all Nobis bakeries.
Problems, suggestion, criticism: