Employee Benefits
The well-being of our employees is important to us!
Our team spends a considerable amount of time working at Nobis Printen. Therefore, it is important to us to make the working conditions as attractive as possible: Through modern workplaces, pleasant working conditions, compliance with safety and break regulations and consistent employee participation. In order to further reduce stress, we would like to offer our employees additional opportunities beyond the workplace. To this end, we have put together a catalog containing not only workplace health promotion but also attractive, tax-free additional benefits.
The Nobis-Benefits bring a lot of advantages:
Improvement of the health conditions in the company
Reconciliation of private and professional life
Financial relief
Reduction of (work) stress
Improvement of the state of health and reduction of health risks
Improvement of the well-being, the quality of life and the own efficiency
Increasing job satisfaction and improving the working
Company pension plan
Not only the health of our employees is close to our heart – no, also the earned retirement provision should be secured after all the gainful years in our team. Thus, employees receive an annual subsidy for their company pension scheme.
Childcare support
Nobis Printen is family friendly! Family and work are two of the most important areas of life that we would like to make compatible for our employees. Therefore it is possible for us to provide financial support for the care of our employees.
Employee discount at Nobis Printen
In the Nobis Printen team, employees receive an employee discount of 40% on baked goods and 20% on print/ snacks when purchasing.

Fitness studio membership – WOF, the oasis for body, mind and soul
The WOF plants offer regionally on over 25,000 square meters a high degree of quality, generosity and equipment. The offer includes much more than flexible opening hours, 650 courses, childcare and figure treatments. We support our employees, after the end of their probationary period, with a strongly discounted membership fee in the WOF.

If you are surrounded by Nobis delicacies all day long, you may have a few kilos too much on the scales. If that concerns you, you can change that with weightwatchers. We think it is great when our employees want to do something for a healthy lifestyle. If you submit an application, we will pay the application fee after consultation.
Yearly health check
A health mobile comes annually to us. We give our employees the chance to voluntarily have their state of health checked.
Teilnahme an Sportevents

Running for a good cause: Printen is a long-time participant in the Aachen Company Run and the Nordeifler Business Run. We are happy about a lively participation, because the bigger our Nobis team becomes, the more fun it is. We pay the entry fee.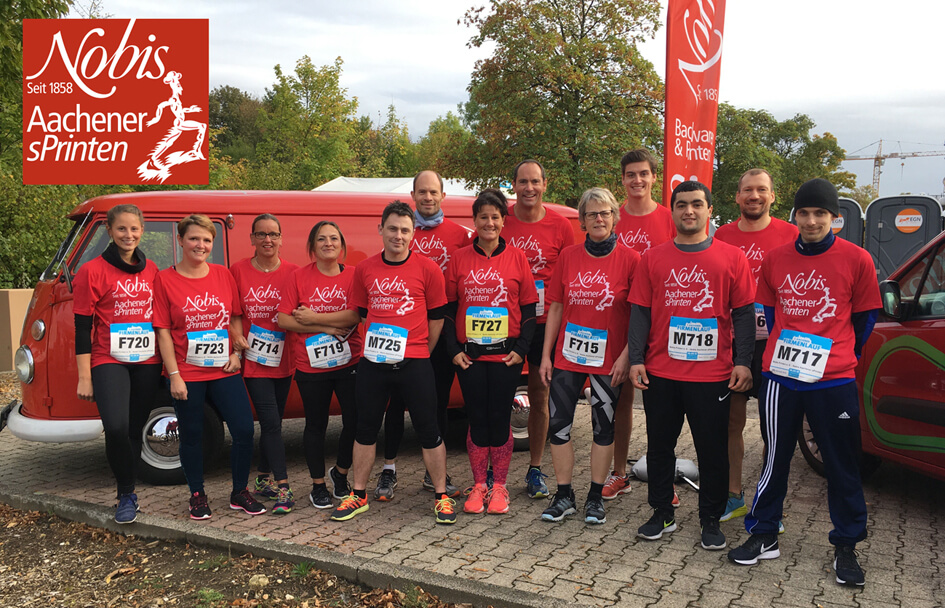 "Team Nobis" at the Aachen company run
E-Bike Leasing
As soon as one has completed two years of employment, we as an employer are happy to conclude a leasing contract for our employee. The conclusion of a leasing contract by us allows for tax and social security benefits for our employees in the context of the monthly payroll.